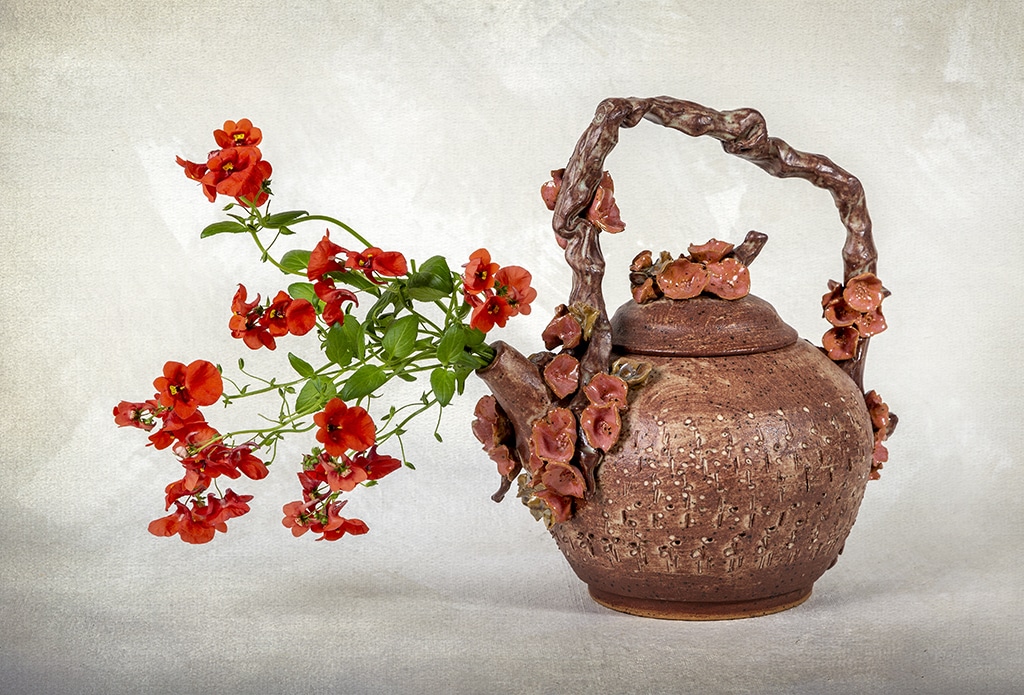 Judy has always wanted to make images about tea. Initially, she had visions of traveling to the tea-growing regions of Asia and documenting the process of tea from plant to product  –  of making photographs that told the story of the culture of tea. As time went by, she realized that she was not a young chick with limitless energy or financing and that reality meant the dream had to change. So, Judy started collecting teapots – mostly Asian or old or just interesting with the belief that inspiration would strike. It did.
For several years, Judy has been using flowers and other organics as subjects in still-life work. On a whim, she took one of the teapots and a couple of leftover stems and played to see what could happen. The result was the Hellebore Tea image, which led to the others in this exhibit.
Judy's intent is to keep these images clean and simple. She often strives for a sense of serenity, a little humor, and other unexpected surprises in her use of subjects. Flowers spouting out of a teapot and calling it "tea" is quirky, no doubt. However, she consciously tried to match the flowers to the color or style of the teapot. As for Judy's technique, she uses backgrounds she has painted and textures to fill in the white areas around the subject. To add another layer of texture and interest, all the images in this exhibit are printed on Washi Unryu 55 paper.